OUR MISSION: To help create a safer community.
2022 CESF 9th Annual Dinner and Auction
We are excited to announce The Clackamas Emergency Services Foundation has rescheduled their 9th annual dinner and auction for November 12th, 2022, at the Gray Gables Estate in Milwaukie. The purpose of this fundraiser is to raise money for those in need; therefore, we need your support. This year's theme is Mission Possible", so please join us in your favorite black tie suit, dress, or secret agent attire.
We are asking for your support so we can also enable the firefighters and law enforcement officers in our community to continue to provide help to those who need our assistance.

More details about the dinner and auction can be found here, and information on sponsorship opportunities can be found here.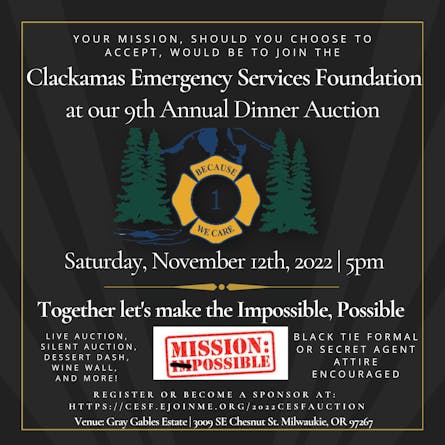 Art Johnston Memorial Scholarship
In 1998, a Clackamas Fire District #1 firefighter was killed in a tragic fall. In his memory, fire district employees initially established a special fund within the Foundation to assist his teenage daughter with her college education expenses. The Foundation has since built upon this effort, expanding its scope to provide scholarships each year to college students who have chosen to pursue a course of study related to emergency services professions. Download the application form and rules and procedures, and submit them via email, or mail.
NOTE: Due to COVID-19, applications will not be able to be picked up or dropped off at the Admin Office. Completed applications can be mailed to the Admin Office at 11300 SE Fuller Road, Milwaukie, OR 97222.  Applications may also be emailed to cesfassistant@gmail.com
Services
Donations to the Clackamas Emergency Services Foundation, which are tax-free, may be used in some of the following ways…
Community Assistance Fund
For those who have experienced a fire or other tragedy, Foundation funds can provide a warm hotel room in the middle of the night, a change of clothes or necessary toiletries until other social service agencies can step in. Firefighters and police officers who respond to the emergency calls are empowered to use their discretion in identifying short-term emergency needs in their communities.
During this month-long holiday toy and food drive, Clackamas fire District #1 volunteers and employees lead Santa's fire engine parade down neighborhood streets to collect non-perishable food items, which are used to fill hundreds of food baskets for needy families, and donated new toys for children. Donated funds are used to purchase perishable items for food baskets.
This program was established to provide an instant fix when firefighters find children riding bikes, skateboards, scooters, or rollerblades without the proper head protection. The fix is to provide and fit a bike helmet, free of charge, to the child, which ultimately solves the safety concern on the spot.
SUPPORT FOR COMMUNITY GROUPS
The Foundation regularly supports community organizations within the county who are seeking to help others. Examples include Meg's Moments, Bloomin' Boutique, and Backpack Buddies.